One of the inmates of Bigg Boss season 3, Sherlyn Chopra, the girl who is always irritated and once cried when asked about her family, performed a very seductive act in one of the episodes which raised many eyebrows. What will be the reason for her behavior that too on the national channel?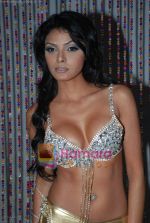 The actress in the episode, where the contestants has to execute their talent in front of all the BB3 house inmates, has crossed the limitation of dignity by peeling off her clothes one by one in a very seductive manner. Now the question arises that to what extent is this permissible by the audience. Another query which goes around in the mind is, to what level the deed of Sherlyn was related to 'talent'?
And last but not the least, why Sherlyn chosen this kind of act to perform in the house of BB3? The reasons may be that the Angel (pet name of Sherlyn) is hunting for TRP's or may be she wants more publicity like her fellow actress (Rakhi Sawant). It could be the decision of channel too for raising its bar in the race to win?
The correct answer can be only given by Sherlyn as you never know with these celebs, they can reach to any extent to get what they wanted. All we can say here is TRP's ke liye aur kya kya karega…
–Tejashree Bhopatkar