Paritosh Painter's Beach O Beach which was to air on Colors has been abruptly scrapped. Annirudh Dave, Daljit Kaur and Chahat Khanna are the few names associated with the show.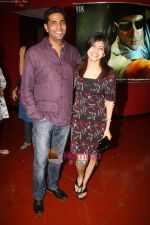 We called up our sources to know the facts hidden behind this issue,
"Colors don't want to break the trend of social issues on their channel as it's giving them good TRP's. So they are bit scared to start a new trend that too of young people in hot and sexy beach wear. Now they want to continue with their trend. The show was supposed to replace Khatron Ke Khiladi at 10:30 time slot but now they are looking out for another show to be filled in at the place."
"Also no contract was signed between the producers and the channel and there were just talks. They even started with second schedule but had to stop as there were few monetary problems,"
adds the source.
Elaborating on the actor being not paid the money our source adds,
"All the actors are bound by the contract from the production house and thus they are jobless and just waiting for the clearance from Paritosh Painter. The producer has pulled his hands for paying them."
"Now all the six actors are looking out for a new shows hoping to get more meatier offers. They now don't want to wait any longer,"
concludes the source.
–Rachana Trivedi